Introducing the golden sponsors of the Symposium 2022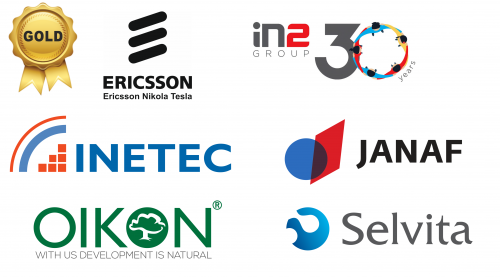 Ericsson Nikola Tesla Group is a regional provider of information-communication products and services in the operator segment, and a supplier of innovative information and communication solutions related to e-health, transport, public administration, e-environment, utilities, and multimedia communication. Their main values are professionalism, persistence, respect, and integrity, and they are open to all who share the same values and appreciate expertise and knowledge. Being an employee of this company provides an exquisite opportunity to work with the latest technologies, tackle challenging projects in international teams, participate in knowledge-sharing sessions, code reviews, as well as continuous training and certification.
IN2 Group has been developing software for a number of industry verticals and has acquired experience in the development and implementation of solutions in almost all business branches. The Group operates in 5 countries in the region, with more than 300 clients. This year IN2 Group celebrates 30 years in business. Thanks to continued investment in its people and technology, creative thinking, which is always ahead of its time, and perseverance, IN2 has a clear business vision and strategy for further development. The greatest value of IN2 Group is their employees and their personal and professional development which leads to the success and growth of the company. In a wide range of activities and various projects, motivated and enthusiastic individuals can find a place in which they can give their best.
INETEC is a Croatian high-tech company that has been operating on the global market for more than 30 years. The company develops and manufactures robots, instruments, software and probes for non – destructive testing in the nuclear, aerospace and medical industries. The key to success is a collaboration among diverse teams of experts – robotics, electronics, software and many others. Every employee is provided with mentoring and works with highly qualified experts. One of the unique projects INETEC is currently working on is the development of robotic systems for the ITER project – the world's largest experimental fusion reactor. The company also participates in numerous research and development projects in cooperation with universities and scientific institutions. The most important resources of the organization are our members, their knowledge, skills, values and motivation.
JADRANSKI NAFTOVOD, dioničko društvo (JANAF Plc.), with its registered office in Zagreb, Republic of Croatia, is managing an oil pipeline and storage system as a modern, efficacious and cost-efficient system of transportation and storage of crude oil and petroleum products. This oil pipeline system was designed and built in the period from 1974 to 1979 as an efficient oil transport system for both local and foreign users. By constructing and putting into operation the oil pipeline and storage system (1979) JANAF has become a strategically significant factor of supply security of the refineries in six countries of South Eastern and Central Europe, and today, is recognized as the EU strategic oil pipeline, through the project of common interest (PCI), entitled JANAF-Adria Pipelines. Besides crude oil transportation, JANAF's core business includes storage of crude oil and petroleum products.
OIKON Ltd – Institute of Applied Ecology is a leading licensed and accredited consulting company/research institute in the field of applied ecology in Croatia and the region with 24 years of experience. Oikon's specialties are nature and environmental protection, natural resource management, landscape analysis and design, industrial ecology, ecological modeling, renewable energy, sustainable mobility, environmental law, policy and economics, project management, remote sensing and geographic information systems (GIS). Such a broad range of activities requires a broad range of expertise. Oikon employs experts covering as many as 16 disciplines. In addition to Croatia, Oikon has extensive experience in projects in Bosnia and Herzegovina, Montenegro, Slovenia, Serbia, Albania, Turkey, the United Kingdom and Cyprus, and collaborates with leading consulting firms throughout Europe.
Selvita Ltd is a company that provides services in the area of pre-clinical drug discovery to biotech and pharma companies both in Croatia and worldwide. The services cover the areas of chemistry, biology, biomedicine, veterinary and pharmaceutical sciences. Together with our clients – scientists from all over the World, we work on projects with the goal to discover and bring new drugs to the market.
Introducing the silver sponsor of the Symposium 2022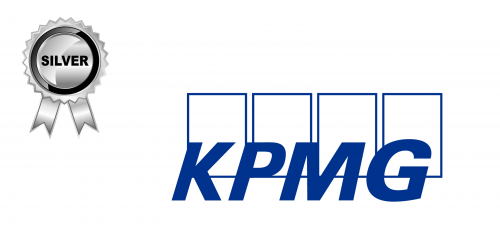 KPMG has been operating on the Croatian market for 28 years, providing professional services in the field of auditing, tax consulting, accounting, law, transaction and financial consulting, business consulting as well as consulting related to financial risk management and consulting on compliance with regulatory requirements. The core value of this company is the knowledge of more than 227,000 employees from 146 countries and territories, which supports the industry specialization program. Every year, they are joined by managers, experts and graduates of the best universities and colleges. Clients include some of the largest domestic and international companies, governments and public sector agencies as well as non-profit organizations that see KPMG as a high standard of service.
Introducing the bronze sponsors of the Symposium 2022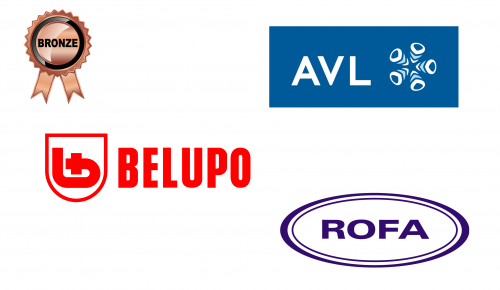 AVL-AST Ltd Croatia was founded in 1996 with headquarters in Zagreb as a member of the AVL List GmbH. As a strategic partner, it is mainly oriented to software production, electrification, creation and implementation of software solutions for simulation, testing and optimization of all types of propulsion systems for passenger and commercial vehicles. AVL-AST is a significant partner to a large number of car manufacturers worldwide who, due to stringent environmental standards and fuel consumption reduction, need to continuously improve their products.
Belupo d.d. is a regional pharmaceutical company founded in 1971 and located in Koprivnica. Its main activity is the production and sale of a variety of pharmaceutical preparations, and it is the leader in the cardiovascular and dermatological program. Today, Belupo is unambiguously one of the leading pharmaceutical companies in Croatia in terms of market share. In addition to Croatia, Belupo also operates in 18 European pharmaceutical markets, with a clear focus on conquering new markets to continue its growth. The employees are the strength of Belupo. Their enthusiasm, desire to prove themselves, dedication to work, loyalty and balance of experience and youth enabled Belupo to grow over all these years. About 1,500 employees live and work with Belupo. Together with his employees, but also friends and partners, Belupo is celebrating common achievements for 50 years, living the same values, sharing the same uncertainties, and most important, preserving health and life.
ROFA d.o.o. is a member of the international group ROFA from Vienna, a supplier of laboratory and process equipment for fuel testing and other laboratory equipment from the production program of its principals. Since 1997, ROFA has also had an office in Croatia due to better and faster support from its numerous customers in Slovenia, Croatia and Bosnia and Herzegovina. The field of activity of the company has expanded to water and ecology, where they offer from laboratory equipment to monitoring and continuous monitoring systems. ROFA also offers a wide range of XRD and WD-XRF equipment for various applications in the field of quality control, research and development, from universities, control laboratories, industries, refineries, etc.